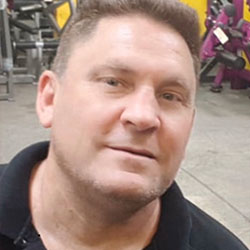 Leo Marangi, President & CEO
Leo Marangi started in the fitness industry with bodybuilding in South Africa. When he came to the USA, he was given the opportunity to deliver fitness equipment, traveling across the country.
After learning about the machines as a refurber, he began selling machines out of his garage. His vision to grow the company began by looking for opportunities to expand beyond sales. He began installing machines and buying back the used equipment.
Under his leadership, the company has grown into a business in a building with 100,000 sq ft of fitness equipment sold worldwide. And now Primo Fitness offers new equipment made by Panatta to an expanded customer base. Once Leo discovered the true biomechanics of fitness equipment, it has been his passion to educate buyers on the true quality and value of biomechanics vs price. He has expertise in sales, design, logistics, installs, technical repairs and other aspects to help meet his customers needs.